Baby Brain Development and Swimming
Posted 01.28.15 at 3:22 pm no comments leave a comment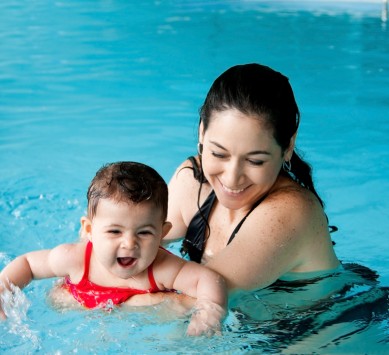 If you already own a backyard swimming pool, you know the benefits cover everything from physical health to mental well-being to aesthetic enjoyment. But did you know that learning to swim helps babies develop their brains?
Having fun in your pool is one of the best things about having a pool, but getting a boost in brainpower makes those fun summer afternoons of splashing and playing that much more valuable. Keeping your pool in healthy, beautiful condition with regular pool service might be one of the most important maintenance calls you make this season.
Science Proves the Mental Benefits of Swimming
A study conducted in 2012 at Australia's Griffith University suggested that kids who learn how to swim learn faster and reach essential developmental milestones earlier than children who don't get in the pool.
The study included parents of 7,000 children under the age of five living in Australia and New Zealand. Researchers followed the kids for more than three years, and the researchers also conducted in-depth testing on 180 additional children.
No matter a child's socio-economic background, learning to swim helped children enter their first years of school and achieve greater academic success. Children with swimming skills had better visual-motor ability and also developed better reading and math skills.
When children are old enough to start participating in competitive swimming, they'll continue to build valuable life skills that they'll retain and use as adults. Some of those skills include listening and interpersonal skills, as well as goal setting skills and a positive self-image.
Physical Benefits of Swimming for Children
Regular swimming is a low-impact and effective way to stay healthy, and it's also a fun way to engage in a comprehensive type of exercise every day. Introducing your baby to the water early in life is a terrific way to ensure your baby's health during his or her most important years of development. Also, arranging regular swimming pool cleaning keeps your pool safe whenever your kids want to head outside and play.
Why is swimming a terrific activity for children?
It improves coordination of young swimmers
Swimming is low-impact, and injuries are rare
Daily swimming helps build self-discipline
Builds healthy muscles and boosts flexibility
Pediatricians also suggest parents include swimming as a daily activity for children because it enhances the natural flexibility with which a child is born.
Teaching Children the Benefits of Exercise
Remember when you were a child, and you spent the summers outside no matter how hot the weather? Riding bikes with friends, swimming at your best friend's pool, and climbing trees kept you healthy and your mind active.
Today, your backyard pool is a terrific way to introduce your children to the benefits of outdoor exercise and healthy activities. What better way is there to exercise than playing "sharks and minnows" with the kids?
If you're looking for ways to improve your pool for your family's enjoyment, A Better Pool Service will make recommendations on swimming pool upgrades, and make sure your pool is safe for your kids and their friends.