Dallas Pool Maintenance in the Fall
Posted 09.16.14 at 6:16 pm no comments leave a comment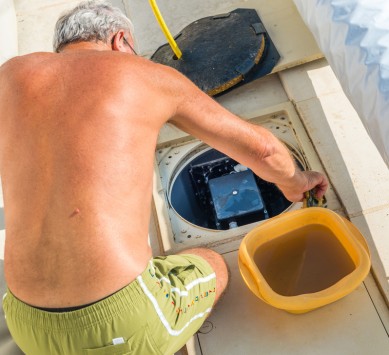 As the kids go back to school, the days start getting shorter and the Texas heat begins to cool down, many of us start using our pools less and less. By the middle of October, you're likely starting the process of shutting down your swimming pool and putting up the patio furniture and water toys. Swimming pool maintenance in Dallas during the fall and winter can be just as time-consuming of a task as it is during the summer. Because it is important to keep your pool cleaned during the off-season as well, you could benefit from regular Dallas pool maintenance during the fall and winter.
Swimming Pool Maintenance Tips
Throughout North Texas, including the Dallas area, the temperatures can fluctuate very frequently, which can cause many parts of nature to collect in your pool. Especially during the fall, it is important to check the skimmers about twice a week for fallen leaves, small branches, dead grass, and other debris that may have blown into your swimming pool. Be sure to keep your filtration system running, because a continuous flow of water is necessary for proper functionality of the pool filters and cleaning system; also, without continuous of water, staining can occur at the water line of the pool wall and when leaves and debris settle to the bottom, they will cause unsightly stains on the pool floor.
Off Season Pool Filter & Pump Needs
Once the temperature starts to drop and your pool is used less often, the filtration and pump operation needs decrease. Unlike during the summer time when the water is warm and you and your family are spending more time in the pool which requires the filtration system to run for 10 to 12 hours a day, during the cooler months of the year you should reduce your filter run time down to 4 to 6 hours per day. After the leaves have all fell during autumn and early winter, you also can reduce your filter cleaning frequency as well. But, if you leave your pool uncovered it is still important to check and clean the filter regularly, especially after a big rain or snow storm. Even if you do not clean your pool filters yourself, it is still recommended to check them in between cleanings; you can have your Dallas pool maintenance company show you the proper steps to inspecting the pool filter if you do not already know how. The temperature drop reduces the amount of pool chemicals you need to add as well, but it is still important to check your pool chemistry at least one time per week during the off season.
A Better Pool Service Dallas
With A Better Pool Service, all of your Dallas pool maintenance tasks can be handled by swimming pool cleaning experts. We offer weekly pool cleaning services at low monthly rates that also cater to pool maintenance in the fall and throughout the entire off season. Instead of worrying about when you checked the filter last, how much/ how often your pool needs chemical treatment, or changing the settings on the filtration system, just leave your Dallas pool cleaning concerns with the pros at A Better Pool Service. If you're not sure, contact us; we will be happy to provide you with a swimming pool cleaning and maintenance quote.