Dallas Swimming Pool Maintenance and Service
Posted 11.20.14 at 5:05 pm no comments leave a comment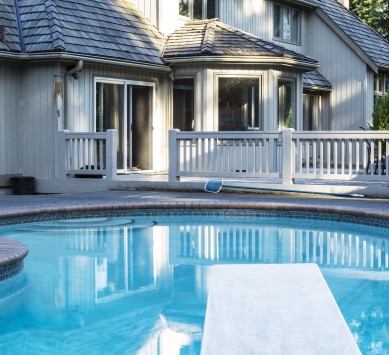 Owning a swimming pool is an added luxury when enjoying the many long months of warm weather that North Texas brings throughout the year. From jumping in to cool off during the hot summer days to having all your best buddies over for a pool party, you'll want your pool to be sparkling clean every time you jump up. With proper, professional Dallas swimming pool maintenance, your pool will be clean and inviting all year long.
Swimming Pool Cleaning in Dallas
A Better Pool Service can help you maintain your pool with regular cleaning services. There are many steps in the pool cleaning process that are required to be performed regularly to keep your pool crystal clear. We provide cleaning service on a weekly basis; we will come out to your home to take care of all your pool needs to keep it clean on a predetermined day of the week.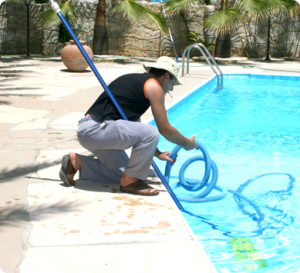 A Better Pool Service Weekly Pool Cleaning will provide you pool with the following:
Skim pool surface and remove debris
Brush and clean tile around the pool and connected spa as needed
Check and empty automatic pool cleaner system
Empty filter and skimmer baskets
Vacuum or use leaf master in pool when necessary
Inspect filter pressure; backwash filter and add Diatomaceous Earth when needed
Inspect and adjust exterior pool equipment to ensure proper operation
Check and make note of any leaks or other potential issues
Test pool chemicals and adjust chemical balances when necessary (all regular chemicals included in service)
Our weekly cleaning service also includes all the normal chemicals necessary for proper sanitization and pH levels as well as alkalinity control.
Dallas Swimming Pool Maintenance Cost
For all of the pool cleaning services provided to you on a weekly basis, we have plans that start at $125.00 per month. You will never have to concern yourself with chemical storage either; our cleaning technicians will bring them at each visit.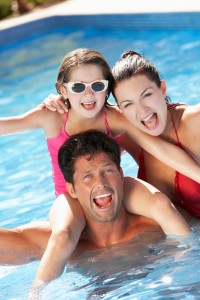 For those who prefer to handle their own pool maintenance and cleaning, we also provide chemicals-only services. Pool chemicals are difficult to manage at times and many pool owners don't like to keep the chemicals at their home when they have children and pets around. Therefore, our expert pool technicians will bring all the chemicals each week for your chemical service. You can get our weekly Chemicals Only service starting at only $70.00 per month.
Whether you need regular pool maintenance for your swimming pool and spa cleaning or you just need an experienced pool tech to maintain pool chemicals for you each week, you can rely on A Better Pool Service in Dallas, Carrollton and surrounding areas. Contact us to get your weekly pool maintenance service started; we will come out and provide you a free, no obligation price quote!