Get Your Pool Ready for Summer
Posted 02.16.15 at 11:13 am no comments leave a comment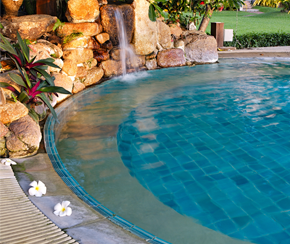 As the season transitions from winter to spring again, now is the perfect time to empty your swimming pool, do maintenance on it and upgrade it for the coming summer months. Because the North Texas area has had such a mild winter, you can already predict that summer will be even hotter than last year. You don't want to wait until the last minute to upgrade your pool. Get started now to avoid high costs and be able to get the best use out of your pool during what's sure to be a hot summer.
Peel Back the Pool Cover
After a long winter, remove the pool cover and turn back on your pool's motors. You can now now perform some basic tests on the water to check the chemicals and make sure the pH level is balanced. It's best to test your pool weekly and compare the results to keep the water completely balanced.
Gather a water sample from below 18 inches in your pool, or about a full arm's length.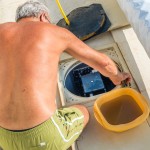 Buy a quality test kit that includes tests and reading for pH, total alkalinity and total chlorine, and follow its directions precisely. Total alkalinity is a pH buffer, so keeping total alkalinity in check will help stabilize the pH level in your pool and keep it from fluctuating. You're looking for pH levels to be between 7.2 and 7.6; total alkalinity should be in the 80 to 120 range; and total or combined chlorine should be between 2.0 and 3.0.
If your pH level is too high, lower it by very carefully add muriatic acid to the pool away from other chemicals. If your pH level is too low, add soda ash. Muriatic acid can also be used to lower total alkalinity. To raise this figure, add sodium bicarbonate to the pool to strengthen the pH buffer. Testing your pool weekly will help keep it balanced and help you maintain a clean pool all year round.
---
For best results, call A Better Pool Service at (214) 347-8016, and schedule weekly service. We'll keep your pool properly maintained week to week.
---
Security Updates for Your Swimming Pool
This period of transition between the seasons is a good time to check all kinds of safety equipment throughout your home, including fire extinguishers and CO2 and smoke detectors. While readying your pool for the summer, you should perform security updates around the backyard and pool areas.
Check the fencing around your pool to make sure there aren't any gaps that small animals can crawl under. Check your pool's anti-entrapment devices to keep hair and body parts from being pulled toward the pool drain. Install a safety ladder near the deep end of the pool, and make sure the safety rails near the swimming pool's main steps are secure and in
good condition.
You can even upgrade the entire system to be able to manage it remotely. With this upgrade, you can turn on or off your pool's heater, lights, and pumps and monitor and manage chemical levels from anywhere with just your cell phone.
Now is the Best Time to Do Some Pool Upgrades
What better time to upgrade your swimming pool than a full season before summer! Itching for a whole new look for your backyard? Resurface the pool area with new pool tile, add a small cabana area, or integrate a new water feature like a fountain. Have your Jacuzzi jets repaired or some new ones installed. Attach accessories like a water slide for the kids to enjoy the pool some. You might even get a kick out of it yourself!
If you want more drastic changes done, you could definitely do a complete overhaul on the pool area. Drain the pool and pick new tile or plaster for the pool floor. Pay attention to the design elements around you to make your pool remodel project look distinctive while belonging with the general decor of your home. By remodeling the pool area, you're sure to be able work highly sought-after features like luxurious and romantic waterfalls and rock formations into your design and create an oasis you won't want to leave all summer.
Energy Efficient Swimming Pool Upgrades
Making sure all your equipment is energy-efficient is one of the best ways to save big on your monthly energy bills. Extend that efficiency to your swimming pool by upgrading your regular pool pump to a variable speed one. A variable speed water pump is nearly three times more efficient and operates on less than half the electricity a standard water pump uses. You could also upgrade your pool cover to a solar one in order to save money heating your pool. While not necessary for much of the summer, if you tend to swim in the cooler months, a solar pool cover helps drive down your heating costs while keeping your pool warm throughout the year.
Top of the Line Pool Service in Dallas
If you've got a pool that needs to be brought back to life before the heat of summer hits us, give A Better Pool Service a call. Restoring a pool to its former glistening glory can be a delicate process of balancing pH levels, chlorine and alkalinity. With A Better Pool Service, you don't have to worry about all of that. You can just dive into a perfectly clean pool with our weekly cleaning services.
If you're like some of our customers and prefer to test and clean your pool by yourself, we offer our Chemicals-Only service. We will bring the tests and chemicals with us so you don't have to worry about storing chemicals at your home. Starting at only $70 per month, our Chemicals-Only service offers you substantial savings as well. Read more about it here, and give us a call to schedule a cleaning today.