Swimming Pool Upgrade Options
Posted 07.07.14 at 12:49 pm no comments leave a comment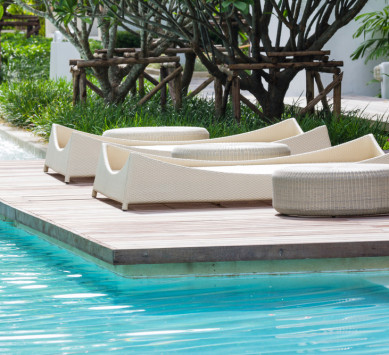 With all the latest technology, there are numerous options and reasons to upgrade your swimming pool. Maybe you've had your pool for many years and you want upgrade your backyard oasis with the most up-to-date features and equipment. Perhaps you've come across a new pool tile and wish to resurface it, or your lighting has become dull and doesn't give your pool that bright, glistening sparkle when you go out for a night swim. Or you family has grown since you originally had your swimming pool installed and you are interested in having it remodeled with the most recent security and safety features to protect the little ones in your family. No matter your reason for needing a swimming pool upgrade, a pool remodel will drastically change the appearance of your swimming pool area for the better.
Endless Swimming Pool Upgrade Options
There are a lot of options and equipment that you can add to update it if you haven't recently had any upgrades done. Consider adding some ambiance to your pool with water features such as pool rock waterfalls, fountains, or water jets. You can also include other features such as a hot tub, fire features, waterslides, or even LED lighting functions. Changing the finish of your pool is the perfect way to make a dramatic modification to your private pool. There are so many selections of finish; whether you pick tile, plaster, aggregates, or even vinyl. When resurfacing your pool's finish, make sure to focus on essential aspects such as geographic location, how you will use your pool, design elements that match the colors of your house or patio area, and so on.
Pool Safety Updates
Adding security precautions is an important need when updating your pool for a growing family. Including a pool fence or even pool security nets is a must to protect pets and small children. Also, of your pool is out of date, you'll need to make sure that you pool has the current in anti-entrapment devices to prevent hair, limbs or other body parts from being sucked toward the pool drain. With a remote automation upgrade you can turn on/off your spa, heater, pumps, and lights; monitor and manage chemicals automatically from anywhere, even your cell phone.
Energy Efficient Swimming Pool Equipment
As you update your home appliances to be energy efficient, you might as well upgrade your pool equipment to more energy efficient products like a variable speed pump that uses 64% less electricity to operate than a standard model. Investing in a pool cover can also keep your pool water warmer so you continue to swim during the cooler months, which will save energy costs by not needing to use the heater to warm the pool. Many pool owners are upgrading their pools by getting rid of the harsh, costly chemicals and converting to the natural saltwater swimming pools.
Whether you need swimming pool upgrades for safety reasons, increase efficiency to save operating costs, or take advantage of remote automation technology, A Better Pool Service has all the time-saving upgrades you're looking for. We can provide an estimate on the products you are interested in and start the installation process as soon possible. Contact us for questions or to schedule and estimate appointment.