Best known as the location where exterior shots for the television show "Dallas" were filmed, Highland Park offers a lifestyle that the fictional Ewing family would enjoy. You can tell by the more than 8,000 azalea plants that burst into bloom each spring in the city's 22 parks that this is a community where quality of life and traditions matter. Beautiful neighborhoods, good schools and stellar shopping centers make Highland Park a great place to live, and many residents enhance their life at home with swimming pools and spas in their backyards. At A Better Pool Service, we provide the swimming pool cleaning, maintenance and repair services you need to keep your Highland Park pool clean and sparkling.
Weekly Swimming Pool Cleaning-Highland Park
Your Highland Park swimming pool is most enjoyable when you don't have to worry about pool maintenance chores. Let the pros at A Better Pool Service handle the job for you, so you can focus on having fun. Our weekly pool cleaning services include all the tasks it takes to keep your pool healthy, sanitary and crystal clear. We'll skim the pool surface and remove every speck of debris, conduct pool water testing and adjust chemical balances whenever necessary. We'll inspect the filter pressure, backwash filter and exterior pool equipment to verify that everything is operating at peak efficiency. We'll even brush and clean the tile around your pool and spa so that everything looks fresh as a daisy.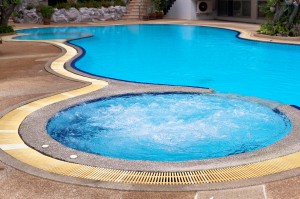 Swimming Pool Repairs in Highland Park
Well-maintained swimming pools in Highland Park offer many years of splashing good fun and soothing relaxation, but occasionally, swimming pool repairs may become necessary. In the heat of a North Texas summer, a faulty pump or malfunctioning motor can turn the water cloudy or green. Even a pinpoint leak can quickly lead to flood of problems. Swimming pool repairs can range from a precision chemical treatment to a full draining of your pool. Fortunately, our powerful commercial-grade pump can drain your pool in no time. At A Better Pool Service, we have the equipment, experience and expertise to address and resolve any problem, big or small.
Swimming Pool Upgrades and Specials
In today's high-tech world, there are more options to upgrade the looks, convenience and energy efficiency of your swimming pool in Highland Park than ever before. As a full-service swimming pool maintenance company, A Better Pool Service can enhance your pool with swimming pool upgrades like robotic pool cleaners, salt-based generators and automatic ozonators. High efficiency pumps, lighting and filters can cut your pool's energy usage by more than 60 percent. To explore your options, simply give us a call or submit an online request for a free consultation.
---
Let us handle your pool service in Highland Park so you can enjoy a clean, well-maintained pool all year long – (214) 347-8016
---
Be sure to ask us about our specials when you contact us too. You'll enjoy credits on services and discounts on fabulous products when you choose A Better Pool Service to keep your Highland Park swimming pool clean, fresh and sparkling in every season.