Why You Should Consider a Solar Pool Cover
Posted 01.13.15 at 9:30 am no comments leave a comment
When it's time for raking leaves instead of swimming in your backyard pool, you've got a few projects ahead that will keep your pool in good condition during the winter. You also might want to see how a few swimming pool upgrades may help make your pool more comfortable well into the colder months. One project you'll want to consider is the installation of a solar pool cover.
Benefits of a Solar Pool Cover
One of the best reasons to invest in a solar pool cover is the energy savings you'll enjoy when you reduce evaporation and heat loss from your pool. Your backyard swimming pool is a source of enjoyment in the summer, but there's no reason to stop using your pool when the temperatures start to get a little chilly.
Some of the benefits of installing a solar pool cover include:
Reducing the cost of pool chemicals
Lowers pool service and maintenance costs over time
Reducing water used to fill the pool
Captures free heat from the sun
Helps reduce swimming pool cleaning costs
Sometimes called a "bubble" cover, solar pool covers look much like the bubble wrap you might use to keep fragile items safe in the mail. They also feature special construction and thicker plastic to ensure they can withstand UV rays.
Wasted Energy from Your Pool
According to the Department of Energy (DOE), swimming pools lose the majority of their energy through evaporation. Characteristics that impact the rate of evaporation include humidity and air temperature, as well as wind speed at the surface of the pool.
Installing pool upgrades like a swimming pool cover helps reduce evaporation for pools located indoors and outdoors. In addition, covering your pool when it's not in use during the off-season helps reduce wear and tear and the need for pool repairs come spring.
The National Weather Service says the drought is in its 5th year, and that some of the most impacted areas are around the Dallas Fort Worth Metroplex. Conserving water is a responsibility of every homeowner in a drought-stricken area.
Remember: Solar pool covers aren't meant to keep your pool or its users safe. A solar pool cover is a device that should always be used and maintained by an adult. Never assume small children are safe without supervision because a solar pool cover is in use.
---
---
When to Replace Your Swimming Pool Cover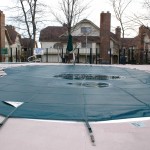 Solar pool covers don't last forever; however, they don't require incredible investment. The easiest way to tell whether your pool cover needs replacement is when the special bubbles start to fall off or the plastic begins to degrade.
Even if you need to replace your solar pool cover every few years you'll still save money in the long run on the costs associated with heating your pool. You'll also save water by reducing your pool's rate of evaporation.
A Better Pool Service can help you choose a solar pool cover to best fit your needs. You'll enjoy lowering your electricity bills and water costs with this simple and inexpensive enhancement for your pool.